When you're stressed, your first reaction may be to reach for a pint of ice cream or a bag of potato chips. While indulging in comfort foods feels good in the moment, it doesn't do much to tackle stress. And foods high in sugar and carbohydrates can become an unhealthy crutch, making you feel worse in the long-run.
That doesn't mean you should avoid food altogether when you're stressed. Food is a natural reward that keeps your brain and body going. You can snack when you're stressed—you just have to pick the right foods.
What gives some foods their stress-busting powers? Pick healthy comfort foods high in these nutrients:
Vitamin C: In blood pressure patients, eating vitamin C on a regular basis was linked with lower blood pressure. What to eat: Reach for fruits packed with vitamin C like oranges and berries. Add some lemon to your water for an extra dose of the stress-fighting nutrient.
Vitamin B-6: Vitamin B-6 can lift you mood, reduce stress, and protect the immune and nervous systems. What to eat: Avocados are a great source of this vitamin. As a bonus, they're also rich in potassium, which supports lower blood pressure.
Omega-3 fatty acids: Omega-3 fatty acids can help prevent stress-related conditions, like depression and anxiety, from developing. What to eat: If you're feeling stressed, make it a sushi night. Load up on fatty fish like salmon and tuna.
Tryptophan: While tryptophan is known for its sleepy effects, the amino acid helps release serotonin. Serotonin helps you regulate moods, and when you don't have enough, you're at a greater risk of developing depression. What to eat: Turkey is packed with tryptophan, but if it's not your favorite, try a handful of pumpkin seeds or a glass of milk.
You don't have to completely swear off sweets when you're stressed—dark chocolate may do the trick. The treat was shown to increase blood flow among heart disease patients.
Article from the StayWell Company, LLC
How To Build a Healthy Trail Mix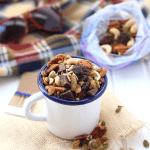 Total Time:

5 minutes

Yield:

4-5 cups
Ingredients
For the customizable version:
1 1/2 cups raw nuts i.e. almonds, pecans, cashews, peanuts etc..
1 cup raw seeds i.e. sunflower seeds, pumpkin seeds etc…
1 cup unsweetened, unsulphured dried fruit
Fun stuff (amounts vary) i.e. 1/2 cup chopped dark chocolate, 1 cup popped popcorn, 1 cup pretzels etc..
Spice i.e. 1/4 tsp sea salt, 1/2 tsp cinnamon, pinch of nutmeg (optional)
My Go-To Trail Mix Recipe:
3/4 cup raw pecans (I toast mine in the oven for 10 mins at 350 degrees F)
3/4 cup raw cashews (I toast mine in the oven for 10 mins at 350 degrees F)
1/2 cup raw sunflower seeds
1/2 cup raw pumpkin seeds
1/2 cup unsweetened, unsulfured cherries
1/2 cup unsweetened, unsulfured raisins
1/2 cup chopped 82% dark chocolate
1/4 tsp sea salt
1/2 tsp cinnamon
pinch of nutmeg
Instructions
Combine all ingredients in a large bowl and mix well.
Store in a ziploc bag or mason jar.
Will keep for up to 1 month.
Source: https://www.thehealthymaven.com/2015/08/how-to-build-a-healthy-trail-mix.html