What Does It Look Like?
It is not enough to diligently and proactively hire a diverse workforce. Successful organizations ensure that they are also creating inclusive environments in which all employees feel valued, welcome, integrated and not isolated. If not, experienced talent recruiters report, new hires will self-eject from the work situation in three months to a year.
Diversity and inclusion are not the same. A diversified company might not have an inclusive culture, and an inclusive organization might not have diversity among its employees.
Diversity represents the full spectrum of human demographic differences – race, religion, gender, sexual orientation, age, socio-economic status or physical ability. In fact, in a previous blog post we make the case for a broader definition of diversity.
Diversity lends itself to policy, enabling an organization to clarify internally and externally. Diversity efforts at all levels of an organization can be measured and compared against the local community or larger social order, promoting multigenerational, multiracial and multibackground progress.
World populations are not static. They are moving seas of dynamic factors. In fact, in the next two decades, the United States is facing three monumental demographic turning points. These turning points will call many of us to challenge our assumptions and work harder at identifying and understanding the unique differences among people.
By 2030, one in five Americans is projected to be retirement age.
Immigration is projected to become the primary driver of population growth in America – the net result of falling birth rates and rising deaths, as opposed to an increasing percent of immigrating peoples.
By 2045, Non-Hispanic Whites will no longer makeup the largest race or ethnic group in the United States.
Inclusion is harder to quantify and requires a much more nuanced approach. Ideally, diversity and inclusion are approached separately as two distinct tenets of culture-building.
In essence, inclusion refers to a cultural and environmental feeling of "belonging."
So, what does an inclusive environment look like? The COO at Startup Institute did something groundbreaking. They asked. Below are some of the answers their employees gave:
All gender-friendly bathrooms
A nursing room for mothers
Using gender neutral language throughout company benefits and policies
Not everyone drinks alcohol
A space to disconnect
Acknowledge all religious and cultural holidays celebrated by the organization's employees
In addition, respondents suggested it's more than just policy and procedure. It's the daily actions – conscious and unconscious – that contribute to the everyday experience for employees.
Listening carefully to employees' answers and thoughtfully laying them alongside quantitative data will often illuminate how an organization can take definable actions in aligning their culture with their mission and values.
And organizations can start today by asking the questions.
*
OF INTEREST:
The changing racial makeup of the United States is most visible among children.
Racial and Ethnic Composition of Children Under Age 18 (In Percent)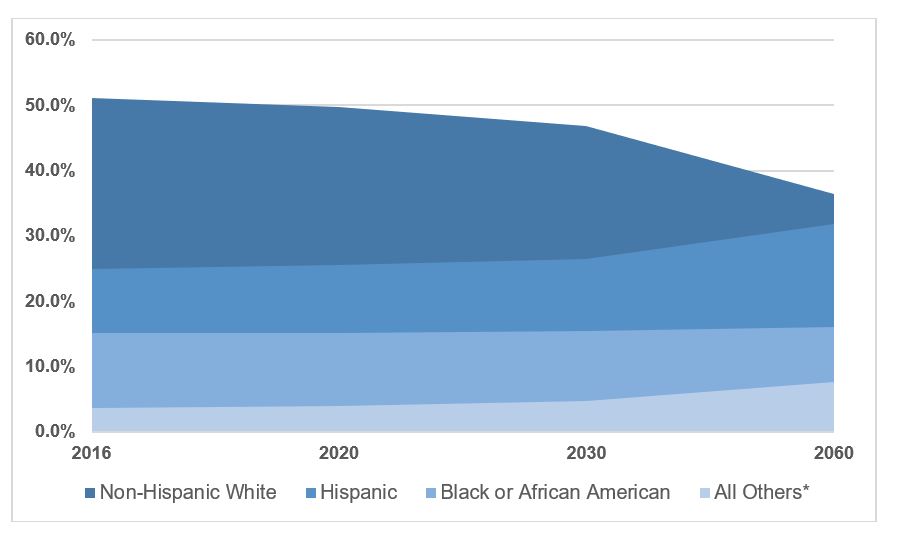 * The other race group includes children who are American Indian and Alaska Native, Native Hawaiian and Other Pacific Islander, and Two or More Races.
*
WHAT YOU CAN DO:
Develop a deeper understanding of diversity, equity and inclusion and ensure your business or organization reflects larger society. UW-Green Bay is now enrolling for a new Diversity, Equity and Inclusion Certificate Program, designed for HR professionals, business and government executives and leaders, managers and team leaders, parents and nonprofit and community leaders. There are two levels with the foundational level starting in February for five weeks. Learn more and register.
*
RESOURCES:
Forbes. "What Should Inclusion Really Look Like in the Workplace?" Peggy Yu. January 17, 2018.
Gallup. "3 Requirements for a Diverse and Inclusive Culture." Ella Washington and Camille Patrick. September 17, 2018.
U.S. Census Bureau. "Demographic Turning Points for the United States: Population Projections for 2020 to 2060." Jonathan Vespa, Lauren Medina and David M. Armstrong, March 2018 Revised February 2020.