Join CATL and Tara DaPra (English) this summer for a reading circle on Ungrading: Why Rating Students Undermines Learning (and What to Do Instead)! Participants will read the book on their own and then on Thursday, Aug. 12, from 11 a.m. to 12 p.m. we will meet via Microsoft Teams to discuss our thoughts on the book.
There are limited physical copies available on a first-come, first-served basis, however, all that wish to participate will also have access to the e-book through the UWGB libraries.
Discussion Questions
Why do we grade? What do grades mean? How have your thoughts about grades changed over the course of your career (or after reading this book)?
What reason do you see to "ungrade"? And what resistance do you have to doing so?
If you could magically change one thing about how you teach your class, without fear of consequence, what would it be?
If you're not ready to go all in with ungrading, is there ONE practice you're considering adopting for the upcoming semester?
What practices could you adopt to help students reflect recursively on their work (research, papers, exams)? In other words, what might help them think beyond a grade earned and instead pay attention to your feedback—what they still need to learn?
Do you see particular "ungrading" practices working better with certain courses (gen ed vs. majors; small vs. large classes; online vs. in person, etc.)?
Has reflecting on "ungrading" changed your views about anything else about your career or the higher ed system?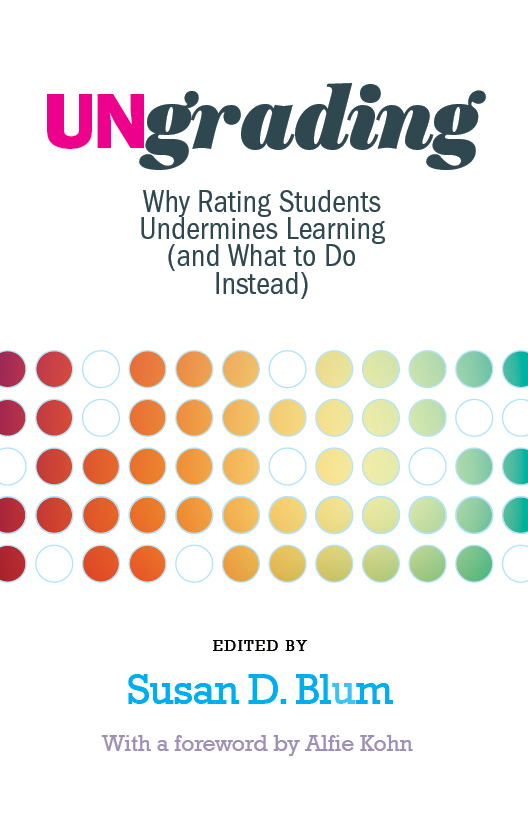 Edited by Susan D Blum, a professor of anthropology at the University of Notre Dame, Ungrading compiles the experiences of fifteen instructors who took the "ungrading plunge." Their accounts demonstrate some of the varied approaches of gradeless teaching—along with the unique challenges—but ultimately, all reflect the positive impact going gradeless has had on their students. Backed by extensive research on learning methodologies, the book welcomes readers to challenge their preconceived notions about learning and assessment, and to consider adopting a more student-centric metric of academic success.